Guangzhou Hongjiang, as the most popular conveyors manufacturer,attended the 2018,6th Dongguan Robotics & Automation Exhibition
Share
publisher

Echo Peng
Issue Time

2018-06-12
Summary
12th-14th, June. Guangzhou Hongjiang, as the most popular conveyors manufacturer,attended the 2018,6th Robotics & Automation Exhibition. You can see our spiral conveyors, modular belts, plastic chains in the exhibition.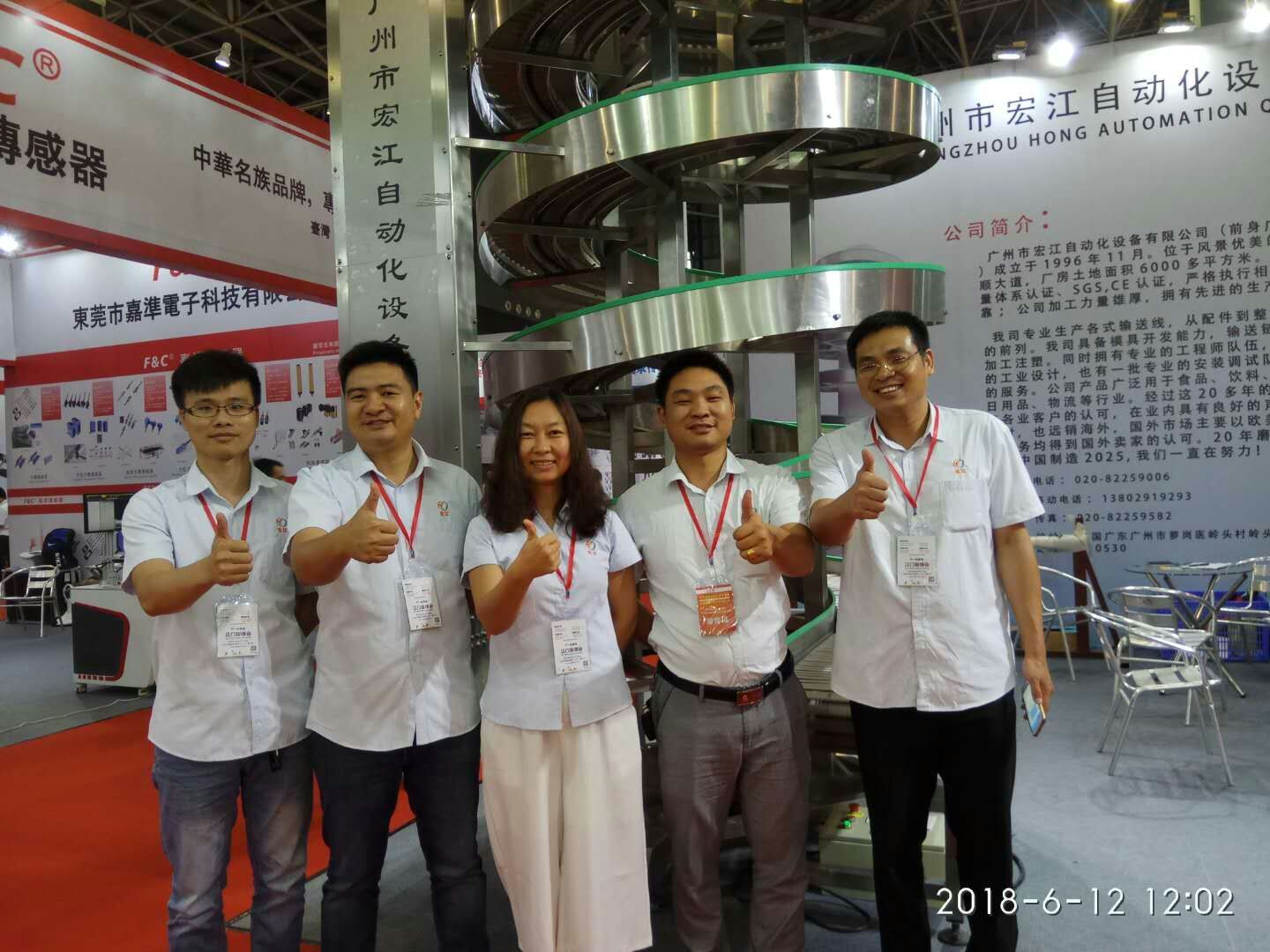 "2018 6th Dongguan Zhenzong Machinery Alliance Exhibition" and "2018 6th Dongguan Robotics & Automation Exhibition" will be held in Guangdong Modern International Exhibition Center from June 12th to 14th! The exhibition covers an area of ​​45,000 square meters, with a total of more than 600 exhibitors, and brings together Shadick, Xiangya, Daiqun, Handan, Baofa, Fengbao, Taiyi, Puchuang, Jingfoss, Ya'andi. High-precision and intelligent machining center; laser force sheet metal machinery such as Heli, Hengtaiyuan, Hualong Xinli, Andre, Radium, Fengshun etc.; Xindaya, Wangneng, Luen Thai, Wenbo, Yinwei Wei, Yinbas, etc. Metal 3D printing; "China Tool Alliance" group to display more products...
"Robots and Automation Pavilion" is a collection of Guangzhou CNC, Fanuc, Kawasaki, Huanyan, Novoji, Chaohong, Gaogong, Sata, Crystal Road, Beitian, Jiexun, Fu Likang, Babu, Junyouda. , Juchuan, Rui Yi, Swift, Nguyen, Ruike, Xin Aoge, Hongjiang, Pei Ke, Brady, Sai Pai Si, 365 and other intelligent robots; Zheng Sports, Ning Xin, Shang Yin, Lian Cheng, Shun Rong, Serede, Dengsheng, Xuanyi, Weigao, Dewei, Jinwangda, Keke, Xinben and other intelligent industrial robots and automation products.
The
Highlights of the show:
China Industry 4.0 Forum & Smart Unmanned Factory Display Area: Created industrial robots, intelligent storage, AGV, CNC machining centers, visual sorting, fully automatic unpacking equipment, electronic signage, ERP systems, MES manufacturing execution systems, etc. A new smart factory that is highly integrated with hardware and software.
A full range of one-by-one shows, allowing you to purchase the required products one-stop, convenient and quick!